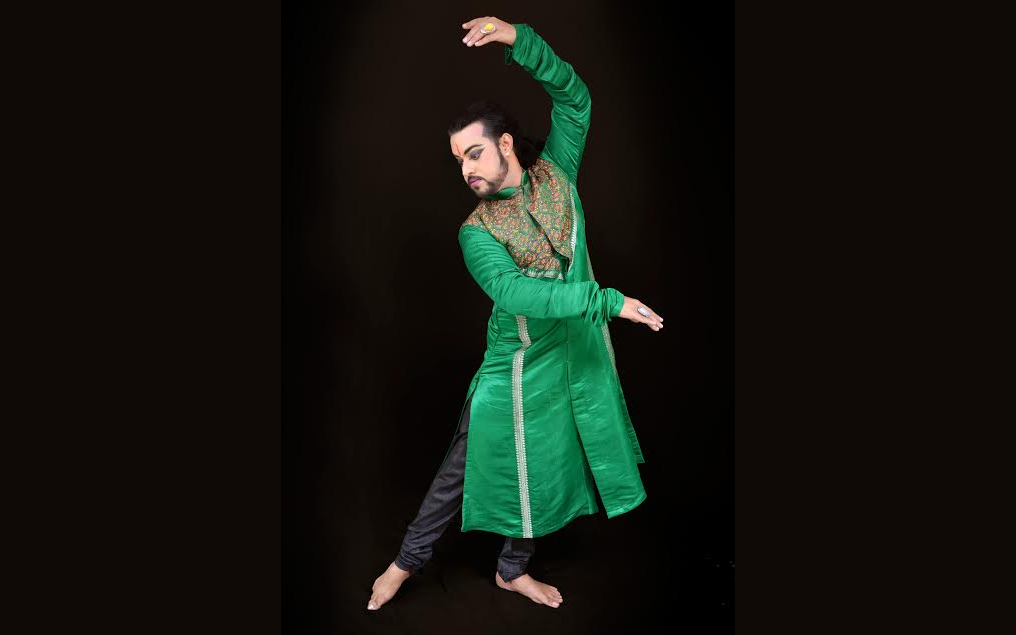 India has classical dance forms that go back centuries. Yet there is a limited audience for dance performances. Can a dance lover make a living in this environment? FamiLife's Prerna Puri spoke with Kumar Prudipto, who works at Kathak Kendre, headed by Krishan Maharj, the head of the department at the National Institute of Kathak Dance in New Delhi.
After performing in many festivals and occasions in India as well as abroad , Prudipto is also running his own institute, Samarpan Kala Kendre.
How long have you been a dancer?
It's been 17 years. I took a break of 5 yrs in between as a result of societal pressure, during which time I had taken a job in Railways.
Tell us about your story. How has your journey been till now and where would you like to reach?
I have been a passionate dancer since my younger days. However, since I  belong to a family of government officials, I was not encouraged to take dance as my career. After facing a lot of family pressure, I gave my exams for the Railways and got a job. I worked for 5 years and was not happy. I then decided I should take a break to figure out what was lacking.
Since I am a Bengali, the dance touch was retained and I started practicing more since that made me happy. After practicing for 1.5 years and attaining a professional degree, I just continued to do what I loved, and I am now pursuing a better career. For me, my love and passion for dance drove me and it still does today. I am still learning, and classical is a huge field where a lot can be done. 
What changes have you seen in this field in your years here?
The percentage of students participating in classical is lesser now, but the field has loyal students who are passionate. Among those who learn western dance, people switch from hip hop to jazz to contemporary. Our students prefer going more deep into a culturally integrated dance form.
There are still pockets and communities in India that retain the culture of classical dance.
There are particularly two sectors that practice classical very diligently and they are:
·         South India
·         Bengal
·         Orissa
What is one style that is evergreen among the various classical dance forms?
All the 8 styles in classical dance are equally asked for. For higher professionalism, it's good to learn all styles. The styles are:
1.     Bharatnatyam
2.     Kuchipudi
3.     Kathak
4.     Kathakali
5.     Manipuri
6.     Mohiniattyam
7.     Oddisi
8.     Sattriya
What do you think about dance as a profession in India?
Classical dance has its birth in India, it has culture attached to it. Even though Western culture is taking over in many sectors, classical gives the best platforms to perform in India.
The Indian Council for Cultural Relations (ICCR) has a separate sector where it teaches NRI's classical dance and give scholarships as well.
There are dancers appointed to be sent abroad for teaching classical or holding various shows.
HDR and ISC are the departments that are promoting Classical dance.
Classical dance is a field like research , the more deep ypou go, the more expertise is attained and more worthy you become.
Going to a site called Nartike.com gives all the festivals where classical dancers from all over india are called to perform. 
Are parents in India open to investing the time and expense in their children if they are interested in dancing?
Yes, parents are still apprehensive about their children taking an unconventional field professionally.
Classical dance as far as I take my own example, classical dance is very much a career you can stand on, but again you should have the passion driving you for more. Classical dance is very much respected and has forces to retain it in India. Government of India has many departments supporting and promoting this dance form.
What are the courses required to be a professional dancer?
There are 8 courses that should be taken to be a high profile professional dancer.
There are diploma courses, bachelors and masters. The dance forms and courses are set by a panel in the ministry of India. There are universities in every state giving certificates on completion of the courses.
At what age should a student start off preparing to be a professional dancer?
As early as possible, though usually kids start from the age 3.
Since there are 8 course, the degree for the sixth course is given only after the higher secondary ( class 12th) is complete. 
What are the exams to be given?
There are exams held by the universities and various academies affiliated provide them. There is a theoretical as well as a practical dance given
Does India offer a respectable level of degree?
Of course it does! There are full fledged degrees given in these practices.
Are the courses expensive?
Yes classical dance form, frankly speaking is an expensive art. The attires, the accessories and the musical instruments are expensive. and mainly for higher class but since talent speaks louder, there are scholarships available for talented and keen students.
What do you think lacks in India? 
There is internal politics and no proper media coverage given to so many Indian festivals where classical dance is performed
What percentage of students do you think take this field professionally?
All students who have come up to me by now have kept themselves with classical, even if they have not taken it professionally. Though many have started to now take it to a level where they can perform on stage.
Have reality shows given a boost to the field?
Reality shows are only good for temporary purposes. The makers of the shows want talent to be shown according to them to have a rise in trps. There is a lot of pressure after the temporary fame fades away. So reality shows are not in reality a very good option. Even in the case of Bollywood, one should enter at a position where they are already a well known name so that the credit is not taken via internal politics
What options does a student have after completing the course?
A lot of options, they can be teachers, performers at various shows, open their schools and academies, affiliate it to the the government for a strong backing.
Please like FamiLife's page on Facebook so that you get all our articles and others may find us.